Saturday the family went down to the open house breakfast for
Festifools,
a local street puppet festival that will be in its third year this coming April. Last year we had such a blast we decided that building a giant wacky puppet was right up our family's wacky alley, so this kicked it off.
I have no good reason why we don't have a stage like this in the corner of our family room. I apologize. He totally loved closing the curtain.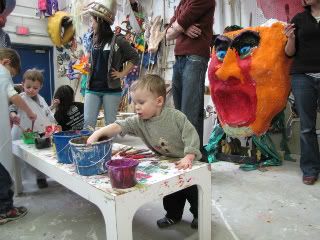 Painting like a baby Van Gogh, with crazed, manic purpose.
The pancakes were enormous!